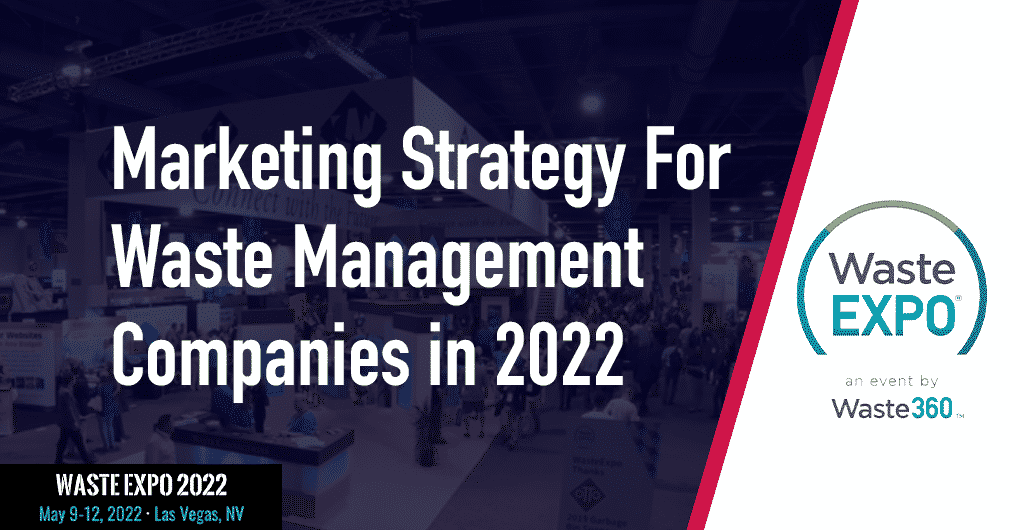 Whether you're looking to increase brand awareness, boost sales, or find new customers, we can help. We have years of experience creating innovative digital marketing strategies for waste management and recycling companies across the country.
Marketing Strategy For Waste Management in 2022
We have compiled a list of critical services that our waste management marketing package includes. These services are aimed at helping waste management companies be more visible to a wider group targeted audience, increase customer trust and sales, as well as differentiate themselves from competitors. In this article, you'll learn how they work and why they are essential for your business growth.
Waste Management Marketing
Local SEO
On-Page Optimization
Local Business Listings
Link Building (Website Authority)
Content Marketing
Content Distribution (PR/Forums/FAQ's)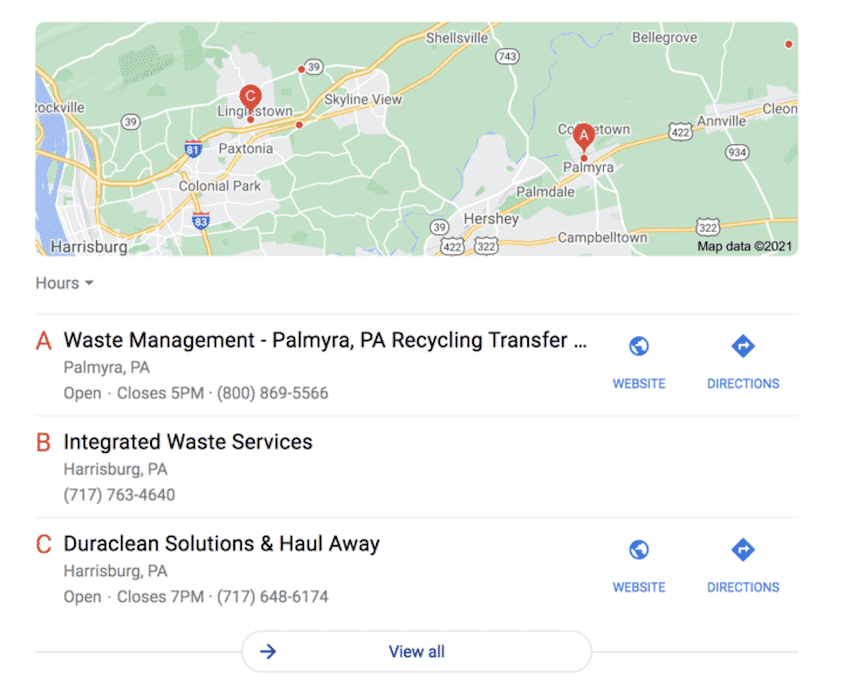 What is SEO and Local SEO for Waste Management?
SEO stands for search engine optimization. SEO is a digital marketing strategy that helps your website rank well in search engine results for relevant keywords. It encompasses a wide range of techniques, from strategically incorporating keywords into your content to improving your pages' load speed.
Local SEO focuses on ranking for search terms with a locational element to them, such as "Waste management company near me" or "recycling center in Chicago IL."
Why is SEO and Local SEO important for waste management companies?
When people are looking for waste management services, Google or another search engine is likely the first place they turn. In fact, more than 90% of online experiences start with a search engine, and 86% of people use the Internet to find local businesses.
Top Local SEO tip for waste management companies
Claim and optimize your Google Business Profile listing by adding more high-quality information such as photos, descriptions, and location details. This will help you gain visibility on the local search results.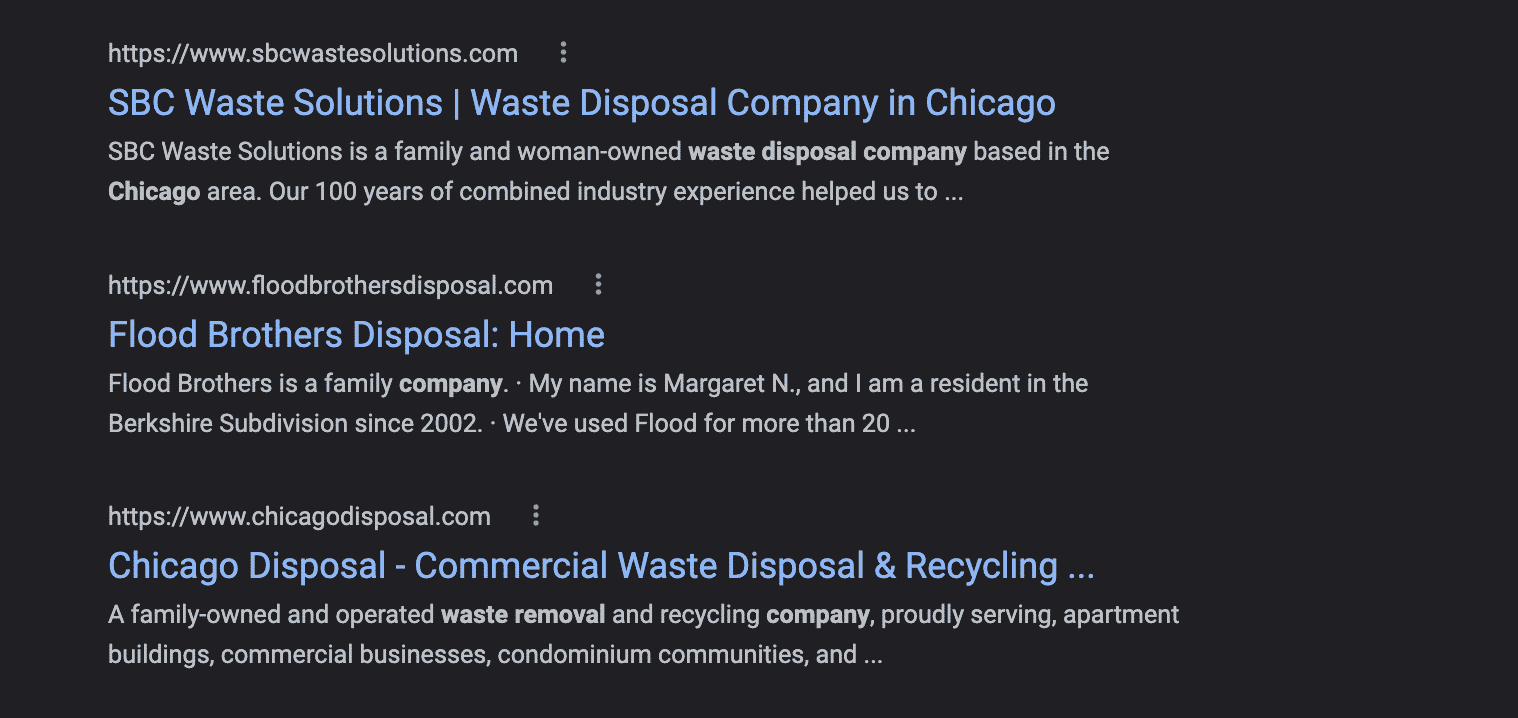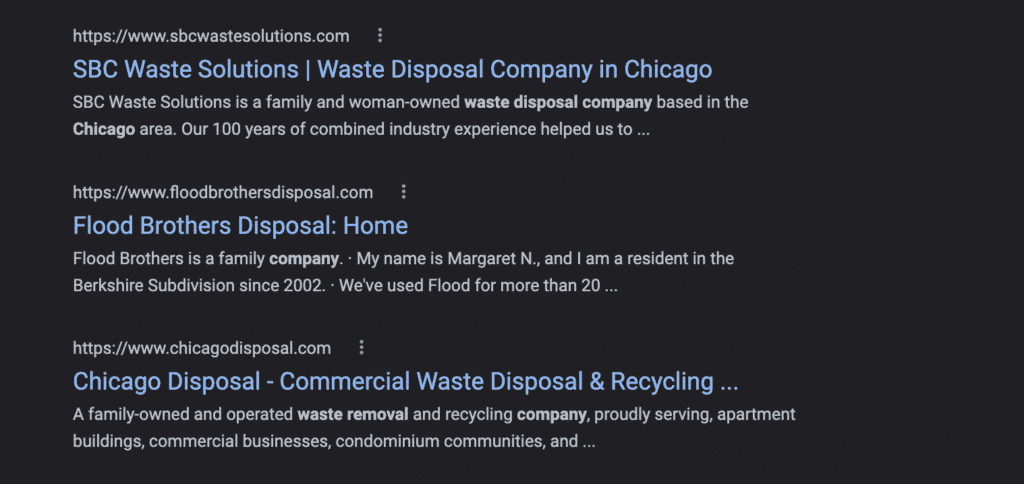 2. On-Page Optimization: Keywords and Website Content
Keywords are another one of the most fundamental parts of an SEO strategy. You need to choose the right keywords and create content optimized to rank for those keywords. The right keywords to target are those your potential customers are searching for when looking for waste management services.
Some of your best keywords will likely have a locational element to them. One of the best ways to come up with keyword ideas is to think of a list of basic search terms (keyword + location). Once you have your keyword ideas, you'll create content centered around them
Top On-Page SEO tip for waste management companies
– To improve your chances of ranking for a given keyword, include it:
Throughout your copy
In your page's title
In your meta description
In your headings
In your URL
Make sure you use your keyword multiple times but only use it where it sounds natural. A good writer can work keywords into a sentence without it sounding forced or awkward.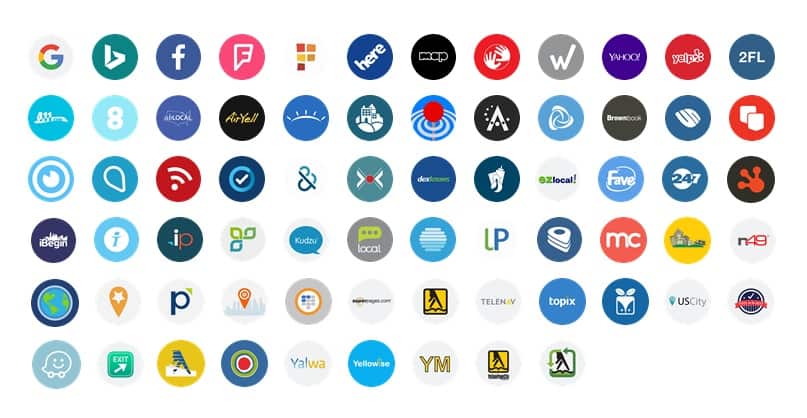 3. Local Business Listings for Waste Management
Business listings are important for local SEO. Many search engines require businesses to have a presence on Google My Business (Google Business Profile), but it's not the only site of its kind. You can also list your business in directories from other search engines, review sites, industry-specific sites, and other sources.
Besides GMB, some of the best sites to list your business on include:
Bing Places for Business
Yelp
Facebook
Angie's List
Better Business Bureau
Top Local Directory tip for waste management companies
You can follow a similar process to the one we outlined for GMB with these websites. Start by adding or claiming your profile. Then, fill out your information as completely as you can and add photos and a brief description of your business if the sites have those features.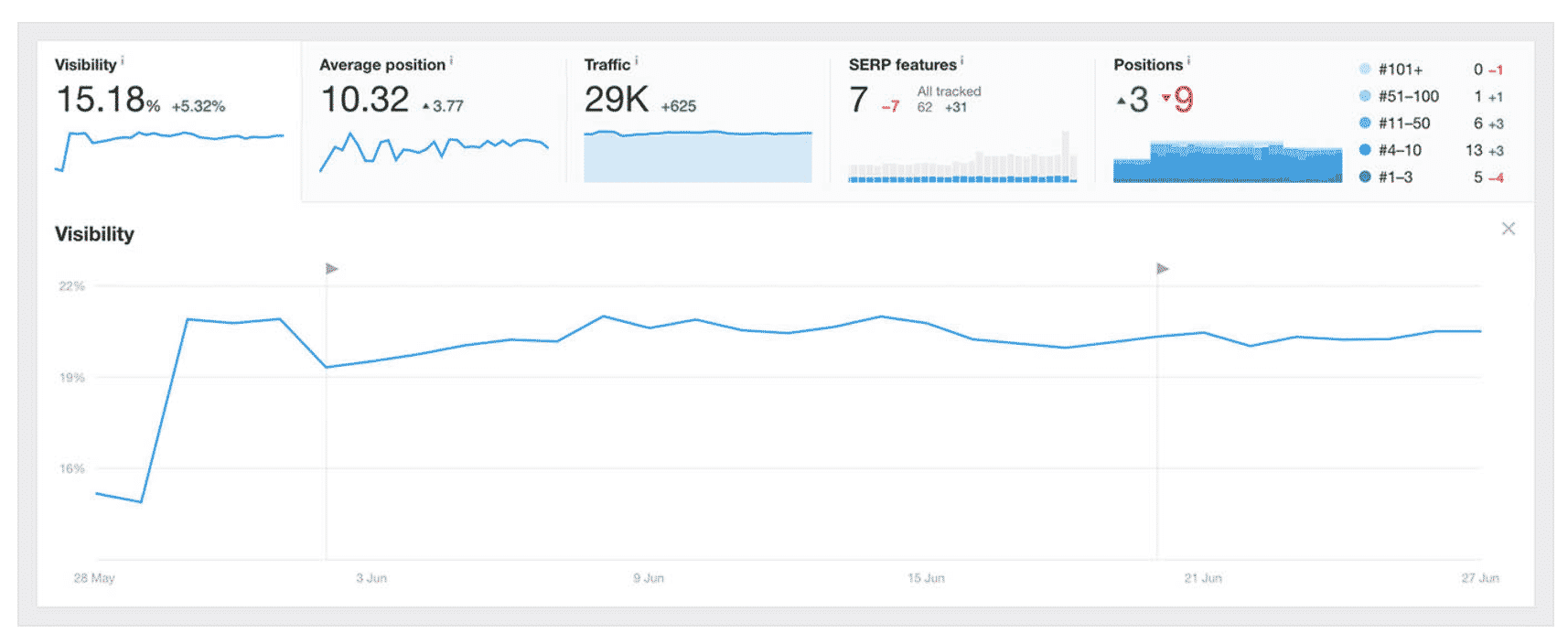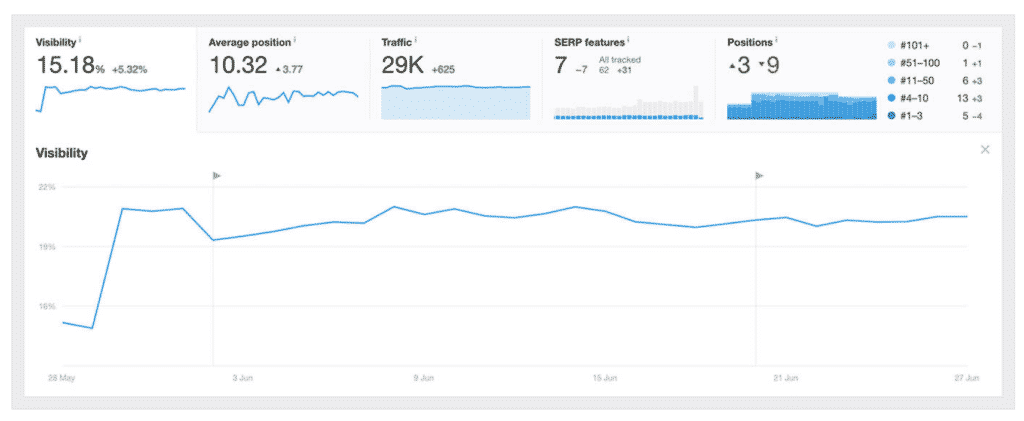 4. Link Building (Website Authority Improvement)
Backlinks are one of the most important SEO ranking factors. Earning links from authoritative sites causes Google to view your site as more authoritative as well.
Website Authority – Your site's authority is a combination of how many links point to it and the quality of those backlinks. Earn additional links from authoritative sites with our website optimization service and Google will view your site as more reliable than it used to be. Sites that rank well in search engines often have a high Domain Authority or are linked to authoritative sites. If your website is not earning links from authority sites, Google won't rank you up in search.
You can build backlinks through outreach, which involves contacting content creators and suggesting a link to one of your pages as a way to enhance their content.
Top Link Building tip for waste management companies
As a local business, you can build local-focused links on the websites of local news organizations, bloggers, companies, and others. Hosting or participating in events may earn you local news coverage, for example.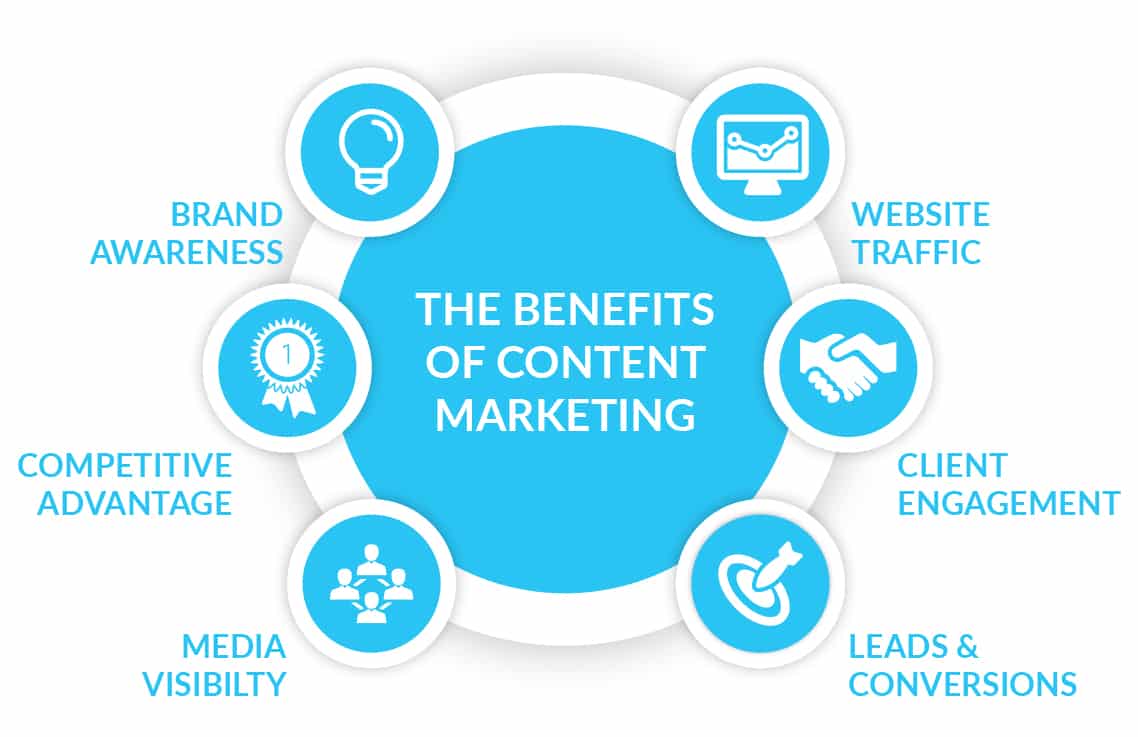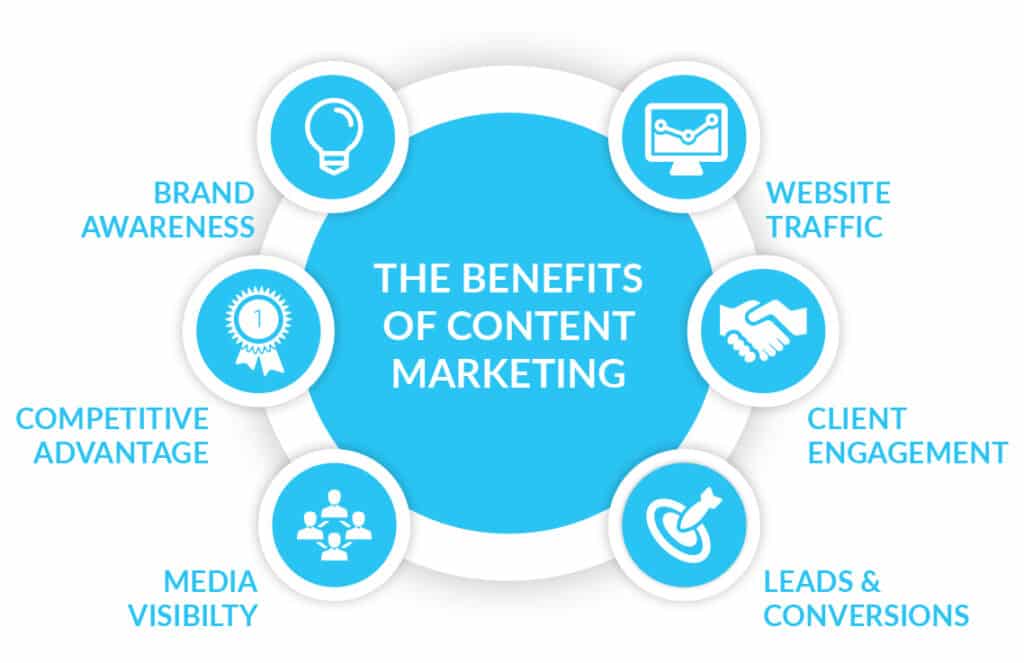 5. Content Marketing for Waste Management Companies
Content marketing is a type of marketing strategy that concentrates on creating, publishing and sharing valuable content for a specific audience. Content can be used to help produce leads, drive traffic to your site, or tell your company's story.
The content you generate can be used:
Attract leads
Convert leads to clients
Boost your base
Retain brand and customer loyalty
Increase brand awareness and creativity
Provide information about waste management, recycling, advocacies, and environmental issues
Engage with an online community of prospects, customers, and environmentalists
Blogs for Waste Management Companies
Blogs are the best way to get your content to your audience and boost your organic ranking. They help "humanize" your waste management business and allow you to share personal thoughts, advocacies, social endeavors, and events in your company. On the more practical side, you can share important information such as recent waste generation and recycling statistics, new waste management processes, revolutionary recycling technologies, and the discovery of more sustainable materials. Interesting and engaging blogs help bring leads to your business where they may become loyal clients.
Video Content for Waste Management Companies
Make your team's impact felt by posting videos of their work. Videos are "warm" media, appealing to the human senses of sight and hearing. With the popularity of video channels such as YouTube, Facebook, and Vimeo; video trends; and more advanced mobile technology, experts predict that video consumption will boost 100% each year.
Landing Pages for Waste Management Companies
Landing pages are created to persuade viewers to complete a marketing goal. You can use your service page for this purpose. Landing pages help you to convince visitors that your product or service can solve their problems and make them take predefined actions, such as sharing your post or signing up for your newsletter.
6. Content Distribution (PR/Forums/FAQ)
Distributing content the right way is important if you want to grow your waste management business. It's not enough to just publish blog posts on your website or social media channels anymore.
By establishing relationships with local news organizations, bloggers, and other content distribution partners, your waste management company can build local-focused links on the websites of these newsmakers. Consistently publishing this type of topical content will improve the search engine performance of your website as well as promote your brand in your community.
Our organic content distribution services will put your articles, videos, and infographics in front of a new targeted audience.
Marketing Strategy For Waste Management in 2022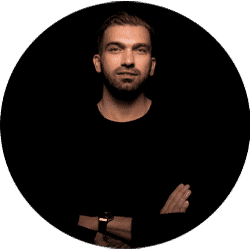 If you want to improve the search engine performance of your waste management company's website, the above six steps are some of the most important things you can do for your business. If you follow these tips, it will be easier for people to find your business online and increase your market reach.
Below you can find the most recent blog posts related to SEO and Marketing. We hope that our advice was helpful and that you are able to integrate some of these innovative marketing ideas into your waste management business. Ultimately, it is important to keep in mind your target audience and what they want from a product or service so that they can continue to come back for more.
If you have questions let us know in the comments section.
Michal P. – SEO and Marketing Specialist